Two
by Jim Cartwright
10th to 12th October 2013 | The Room Upstairs, Lincoln Drill Hall
We returned to The Room Upstairs at Lincoln Drill Hall for our autumn production in 2013. This intimate space was perfect for Jim Cartwright's two, a spell-binding two-hander set in a northern pub in which the actors play landlord, landlady and all the regulars who come and go.
Gaynor Little made a welcome return to Common Ground in the director's chair, while Colin Brimblecombe made his debut with the company as the landlord. Juli Charlton, who appeared in our first ever production in 2001, was cast as the landlady.
The play requires two versatile and convincing character actors, and Colin and Juli fitted the bill perfectly. During the course of the evening they took the roles of bickering husband and wife, an abusive bully and his cowed girlfriend, an old man daydreaming about his dead wife, a frustrated mistress, two innocents enjoying a film and a packet of crisps, and many more besides.
Against this backdrop of everyday life in the pub the relationship of the landlord and landlady was slowly laid bare: the recriminations, the jealousies, the misunderstandings and the hardened hearts all caused by a family tragedy years earlier, the wounds from which had never been allowed to heal.
Gaynor, Colin and Juli all deserve our congratulations for staging one of the finest theatrical experiences we have achieved in our short history.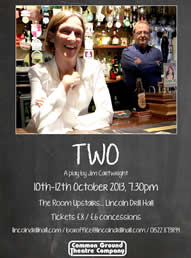 | | |
| --- | --- |
| Landlord | Colin Brimblecombe |
| Landlady | Juli Charlton |
| | |
| --- | --- |
| Director | Gaynor Little |
| Producer | Jez Ashberry |
| Lighting | Vicky Ashberry |
| Sound | Jez Ashberry |
| Programme & publicity | Jez Ashberry |
| Publicity photography | Bill Bartlett |