The Turn of the Screw
Adapted from the novella by Henry James
6th-8th November 2008 Broadbent Theatre, Wickenby
'The Turn of the Screw' is a spine-tingling tale which Vicky Ashberry has long wanted to bring to the stage; a dark and windswept Broadbent Theatre just after Hallowe'en proved to be the perfect venue for such an atmospheric ghost story.
Henry James' novella has been adapted and reworked many times: it became 'The Innocents' starring Deborah Kerr on the silver screen in 1961 and was also the inspiration for 'The Others' starring Nicole Kidman.
In the play a young governess is appointed to educate two orphans alone in a rambling country house which, it appears, is haunted by the ghosts of two former employees who met untimely deaths.
At the heart of James' tale is an ambiguity which provides the kernel of the story: are the ghosts real, and do they mean to harm the children? Is the governess mad, and the ghosts a symptom of her hysteria? Or are the children playing a diabolical trick on poor Miss Grey?
The play provided an opportunity for two Common Ground members – Sarah Holt as the governess Miss Grey and Chrissie Hughes as the kindly housekeeper Mrs Grose – to tackle meaty roles which are all too rare for female actors.
It also gave youngsters Fern Rodgers and Jamie Bendy the opportunity to make their Common Ground debuts with mature performances which belied their tender years.
The Lincolnshire Echo described the play as "tense and chilling" while the Market Rasen Mail saluted "a great success" and "an excellent choice of play for this time of year".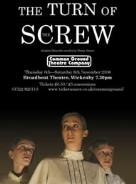 | | |
| --- | --- |
| Miss Grey | Sarah Holt |
| Phoebe Green | Mrs Grose |
| Flora | Fern Rodgers |
| Miles | Jamie Bendy |
| Mr Crimmond | Jason Hippisley |
| Ghost of Miss Jessel | Sasha Drennan |
| Ghost of Peter Quint | Jez Ashberry |
| | |
| | |
| | |
| | |
| | |
| | |
| | |
| | |
| --- | --- |
| Director | Vicky Ashberry |
| Assistant Director | Luke Niemiec |
| Producer | Jez Ashberry |
| Set Design | Vicky Ashberry |
| Lighting | Patrick Markham |
| Stage Manager | Jez Ashberry |
| Wardrobe & properties | Vicky Ashberry |
| Front of House | Carolyn Jones, Su Toogood |
| Publicity & programme | Jez Ashberry |
| | |
| | |
| | |
| | |
| | |
| | |