The Fisherman's Wife
A sex farce, with sea creatures – By Steve Yockey
30th April to 2nd May 2015 | The Room Upstairs, Lincoln Drill Hall
We have staged all kinds of plays in our 14-year history, from Shakespeare and Dickens to coarse acting and contemporary drama. But it's fair to say that we've never performed anything quite like The Fisherman's Wife, which was our offering in spring 2015.
Never before performed in the UK, this is a new play by American author Steve Yockey which takes as its inspiration The Dream of the Fisherman's Wife, a 19th-century Japanese woodcut which depicts a raunchy encounter between a female pearl diver and two tentacled sea creatures.
From that starting point Yockey wrote a crazy, surreal sex farce featuring an unhappily married couple, a sexually opportunistic travelling salesman and a pair of magical sea creatures who assume human form when on dry land.
Our hilarious show in The Room Upstairs at Lincoln Drill Hall featured live music, vivid underpants, drug misuse, a puppet show, sex, violence, a singalong and much more besides.
Once again we had several new faces in our cast – Matt Noakes and Suzannah Turner as the sea creaures Octopus and Squid and Fraya Grove as the eponymous Vanessa Minnow – while old stagers Philip Little and Jez Ashberry played the fisherman Cooper Minnow and Thomas Bell, the travelling salesman, respectively.
The play was a virtual sell-out and certainly enhanced our reputation as a theatre group which is prepared to push the boundaries wherever possible!
Review: "We went to see The Fisherma'ns Wife on Saturday night, had a thoroughly fun evening with lots of laughs – well done!" – Jill Cook via Facebook.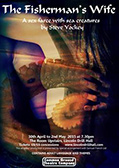 | | |
| --- | --- |
| Vanessa Minnow | Fraya Grove |
| Cooper Minnow | Philip Little |
| Thomas Bell | Jez Ashberry |
| Squid | Suzannah Turner |
| Octopus | Matt Noakes |
| | |
| | |
| | |
| | |
| | |
| | |
| | |
| | |
| | |
| | |
| --- | --- |
| Director | Vicky Ashberry |
| Technical Support | David Brown |
| Stage Manager | Nick Dunnett |
| Lighting | Joe Price |
| ASM | Helen Hill |
| Set construction | Nick Dunnett |
| Set painting | Andrew Simms |
| Photography | Bill Bartlett |
| Properties & wardrobe | Vicky Ashberry |
| Programme / Publicity | Jez Ashberry |
| | |
| | |
| | |
| | |
| | |