by Lillian Hellman
12th-15th November 2003
Millennium Festival Studio Theatre, Central Methodist Church, Lincoln
Vicky Ashberry made her directorial bow with our autumn 2003 production – and she certainly doesn't shrink from a challenge!
Written in the 1930s, 'The Children's Hour' is the best known work of the American playwright Lillian Hellman. It tells the story of how a malicious lie told by a schoolgirl eventually destroys the lives and livelihoods of her two teachers. Its insinuations of illicit love between two women were considered shocking when it first appeared on the Broadway stage, and when it was revived in the 1950s the play struck a chord with many audiences at a time when rumour, persecution and unfounded allegations were rife in the McCarthy era.
Vicky brought in a host of new members to take the schoolgirls' roles and coaxed excellent performances from all of them – in particular newcomer Francesca Gugliotta, who played the central role of Mary Tilford, the disturbed girl whose lies lead to the closure of the school and the suicide of one of the teachers.
Overall an utterly convincing and deeply moving piece of ensemble theatre which won rave reviews despite attracting only our usual small but loyal audiences. The Lincolnshire Echo praised the 'intense performances' and predicted that audiences would be 'deeply moved' by the plight of the two women, excellently played by Melissa Corfield and Sheryl Tribe. The Lincoln Chronicle pronounced the show 'brave and brilliant', 'hugely enjoyable' and 'gripping and gruelling theatre'.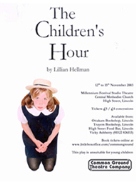 | | |
| --- | --- |
| Peggy Rogers | Amy Edwards |
| Catherine | Elodie Naidu / Ailsa Welsh |
| Lois Fisher | Holly Jackson |
| Mrs Lily Mortar | Su Toogood |
| Evelyn Munn | Caroline Williams |
| Helen Burton | Charlotte Evans / Jennifer Davidson |
| Rosalie Wells | Kirsty McAra |
| Mary Tilford | Francesca Gugliotta |
| Karen Wright | Melissa Corfield |
| Martha Dobie | Sheryl Tribe |
| Dr Joseph Cardin | Matthew Morrissey |
| Agatha | Christine Bellamy |
| Mrs Amelia Tilford | Gaynor Little |
| Grocery boy | Philip Arnold |
| | |
| --- | --- |
| Director | Vicky Ashberry |
| Stage manager | Harriet Ennis |
| Lighting | Harriet Ennis, Vicky Ashberry |
| Costume | Vicky Ashberry |
| Set construction | Ian Smith, Edd Simpson |
| Stagehands | Ian Smith, Edd Simpson, David Stubbs |
| Props | Carolyn Jones |
| Front of house | Charles Newby |
| Publicity | Jez Ashberry |
| Programme | Jez Ashberry, Myk Atkinson |
| Mrs Little's hair | Fran Pembury |