by Peter Whelan
27th-30th November 2002
Millennium Festival Studio Theatre, Central Methodist Church, Lincoln
For our autumn 2002 production we chose a play with a sombre subject. 'The Accrington Pals' tells the story of a group of friends from Accrington in Lancashire who answered Kitchener's call and enlisted in the British Army at the beginning of the Great War. Accrington was the smallest community in the country to raise its own 'Pals' battalion, and on the opening day of the Battle of the Somme on 1st July 1916 – its first major action – the battalion suffered devastating losses. Of some 720 Accrington Pals who took part in the attack, 584 were killed, wounded or missing. The losses were hard to bear in a community where nearly everyone had a relative or friend who had been killed or wounded.
'The Accrington Pals' is based on real history, but its characters are fictitious. It is not only the story of a band of young men who enlisted and died in France; it is also the story of the womenfolk who were left behind, who grew into their new-found independence and who slowly came to realise that the propaganda they were being fed was based on lies.
Steve Watters directed a cast of ten which included experienced actors as well as two newcomers to the stage. The production was the first to be staged by Common Ground at the Millennium Festival Studio Theatre, a recently refurbished theatre space above Lincoln's Central Methodist Church.
Those who took part and those who watched were moved by the sense of history made flesh on the stage. The Lincoln Chronicle described the production as 'an impressive ensemble showing, bringing real credibility to the script's everyday banter' with 'a range of accomplished individual performances.' It concluded: 'The Accrington Pals confirms the company as welcome reinforcements on the city's drama front.'
The Lincolnshire Echo agreed that 'the director successfully balanced the play's action while providing a touching insight into real people's lives.'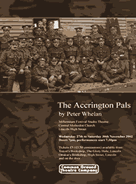 | | |
| --- | --- |
| May Hassal | Juli Charlton |
| Tom Hackford | Patrick Cant |
| Arthur Boggis | Keith Archer |
| Reggie Boggis | Ben Stubbs |
| Ralph | Jason Hippisley |
| Eva Mason | Vicky Ashberry |
| Annie Boggis | Carolyn Jones |
| Sarah Harding | Su Toogood |
| Bertha Treecott | Sheryl Tribe |
| CSM Rivers | Richard Wood |
| | |
| --- | --- |
| Stage manager | Jonathan Stubbs |
| Lighting | Jonathan Stubbs |
| Sound | Steve Watters |
| Props | Carolyn Jones, Su Toogood |
| ASM | Ian Smith |
| Set design | Ian Smith |
| Wardrobe | Jez Ashberry, Gill Noakes |
| Front of House | Charles Newby |
| Publicity | Jez Ashberry |