by Bill Naughton
27th, 29th, 30th November and 1st December 2001
Croft Street Community Centre, Lincoln
Seven short months after we first sat down in the pub and discussed setting up a new theatre group, we were on stage. In the absence of any other takers Jez Ashberry volunteered to direct our first outing – 'Spring and Port Wine' by Bill Naughton, a touching, comic, atmospheric ensemble piece set in Bolton in the early 60s.
Inspired by the 1960s film version featuring a quietly menacing James Mason as Rafe and a teenage Susan George in a mini skirt, Jez brought together a mix of experienced actors and outright newcomers in the company's first cast. Ian Smith worked wonders with a tardis of a set which had to accommodate a dinner table, six chairs, a sofa, two armchairs, a television set and a bureau in a space hardly big enough for Jason Hippisley to swing his towel.
The onset of spring and a few glasses of port wine after work are what puts a spring into the step of young Hilda, but her home life is soured by the overbearing manner of her father Rafe, who rules Hilda and her brothers with a rod of iron. After a series of arguments and confrontations – and the trials of Mother, who has pawned Dad's best coat in spite of her husband's fanatical dislike of debt – the Cromptons manage to avoid a family break-up by finally being honest with each other.
Our first production was described by the Lincolnshire Echo as 'a sterling performance' and involved 28 members and friends of the company.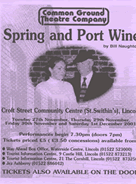 | | |
| --- | --- |
| Daisy Crompton | Su Toogood |
| Florence Crompton | Juli Charlton |
| Betsy Jane | Gaynor Little |
| Wilfred Crompton | Philip Little |
| Harold Crompton | Jason Hippisley |
| Hilda Crompton | Carly Bustin |
| Rafe Crompton | Steve Watters |
| Arthur | Patrick Cant |
| | |
| --- | --- |
| Director | Jez Ashberry |
| Stage manager | Jonathan Newton |
| Properties | Emma Snedden |
| Costumes | Pat Gregory, Vicky Ashberry |
| Set | Ian Smith, John Davey |
| Sound and light | James Ralph |
| Front of house | Charles Newby, Christine Bellamy |
| Publicity | Jacquie Pryce |
| Incidental music | Anne Nugent |
| Photography | Chris Goddard |