Sense and Sensibility
by Jane Austen, adapted by Jessica Swale

17th to 19th May 2018 | Lincoln Drill Hall
New member Julia  Ross made her debut as a Common Ground director by taking on an ambitious yet hugely successful production of Sense and Sensibility, adapted for the stage from Jane Austen's novel by Jessica Swale.
Again we were able to look beyond our membership to cast some younger actors, among whom Sarah Cliffe (Elinor),
Laura Potente (Marianne) and Jordan Leith (the Ferrars brothers) were outstanding. They were ably supported by some
of our regulars such as Fraya Grove (Margaret), Vicky Ashberry (Mrs Dashwood) and Suzannah Turner (Fanny) in an ensemble cast which was a joy to watch.
Julia also made many of the period costumes which helped to give the production such visual appeal.
Our audience numbers were hampered by an unforeseen clash with both the FA Cup final and a royal wedding, but the show was well received by all who saw it.
Reviews:
"The whole cast was cohesive and it flowed, so very good in that way. I really enjoyed it. I've seen lots of different stuff over the years and that was one of the best and really professional. Very very good. You wouldn't have thought some of the cast were novices – some seemed as good as professional actors." – Zara Healey via Facebook.
"Brilliant performance by all the cast. Well done everyone." – Karen Potente via Facebook.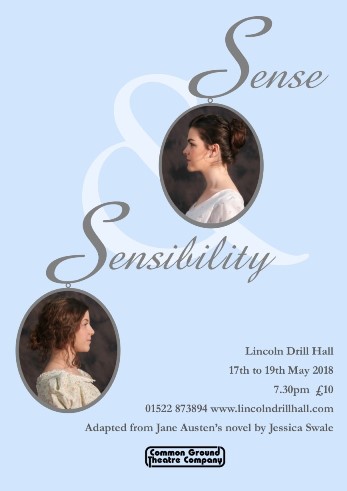 | | |
| --- | --- |
| Elinor Dashwood | Sarah Cliffe |
| Marianne Dashwood | Laura Potente |
| Margaret Dashwood | Fraya Grove |
| Mrs Dashwood | Vicky Ashberry |
| Fanny Dashwood | Suzannah Turner |
| Mrs Jennings | Peggy Reading |
| Mrs Palmer | Sam Miles |
| Miss Grey | Sam Miles |
| Lucy Steele | Charlotte Brindley |
| Perks | Karen Hunter |
| John Dashwood | Matthew Tarling |
| Edward Ferrars | Jordan Leith |
| Robert Ferrars | Jordan Leith |
| John Willoughby | Elliot Sargent |
| Mr Palmer | Elliot Sargent |
| Colonel Brandon | Steve Gillard |
| Sir John Middleton | Martin Noble |
| Thomas/Doctor | Michael Church |
| | |
| --- | --- |
| Director | Julia Ross |
| Assistant Director | Su Toogood |
| Stage Management | Shelagh Gillingham |
| Lighting | Joe Price |
| Sound | Wilfried Nass, Jez Ashberry |
| Stage crew | Kevin Gillingham |
| Wardrobe | Su Toogood, Julia Ross |
| Properties | Su Toogood, Julia Ross, Bill Bartlett |
| Programme | Jez Ashberry |
| Publicity | Jez Ashberry |
| Photography | Catherine Clough |
| Music | Robert Steadman, Hannah Borrill |
| Flute | Sally Cookson |
| Violin | Ruth Birkett |
| PIano | Robert Steadman |
| Front of House | Eileen Finningley, Ros Rowe, Elaine Howell, Carolyn Jones |