by Jean-Paul Sartre, translated by Jez Ashberry
11th to 13th October 2017 | The Room Upstairs, Lincoln Drill Hall
It has long been our Chairman Jez Ashberry's ambition to direct No Exit – Huis Clos in the French original – by Jean-Paul Sartre. It's an existentialist classic about three bad people who are condemned to spend the eternity of afterlife in Hell – and Hell, for them, is a closed, stuffy drawing room with only each other for company.
We almost managed to stage the play with Jez in the director's chair in 2016, but unforeseen circumstances mean we had to cancel the production and re-cast. In the end we acquired a new director, David Thew, and Jez played the role of Garcin instead.
Alongside him in this claustrophobic psychological thriller were Common Ground regular Suzannah Turner (Estelle), recent arrival Jay Petherick (valet) and newcomer Nicole Doyle (Ines).
The play lasted for two hours without an interval and yet you could have heard a pin drop! Thanks to everyone involved in the production and to all who supported us by coming to watch.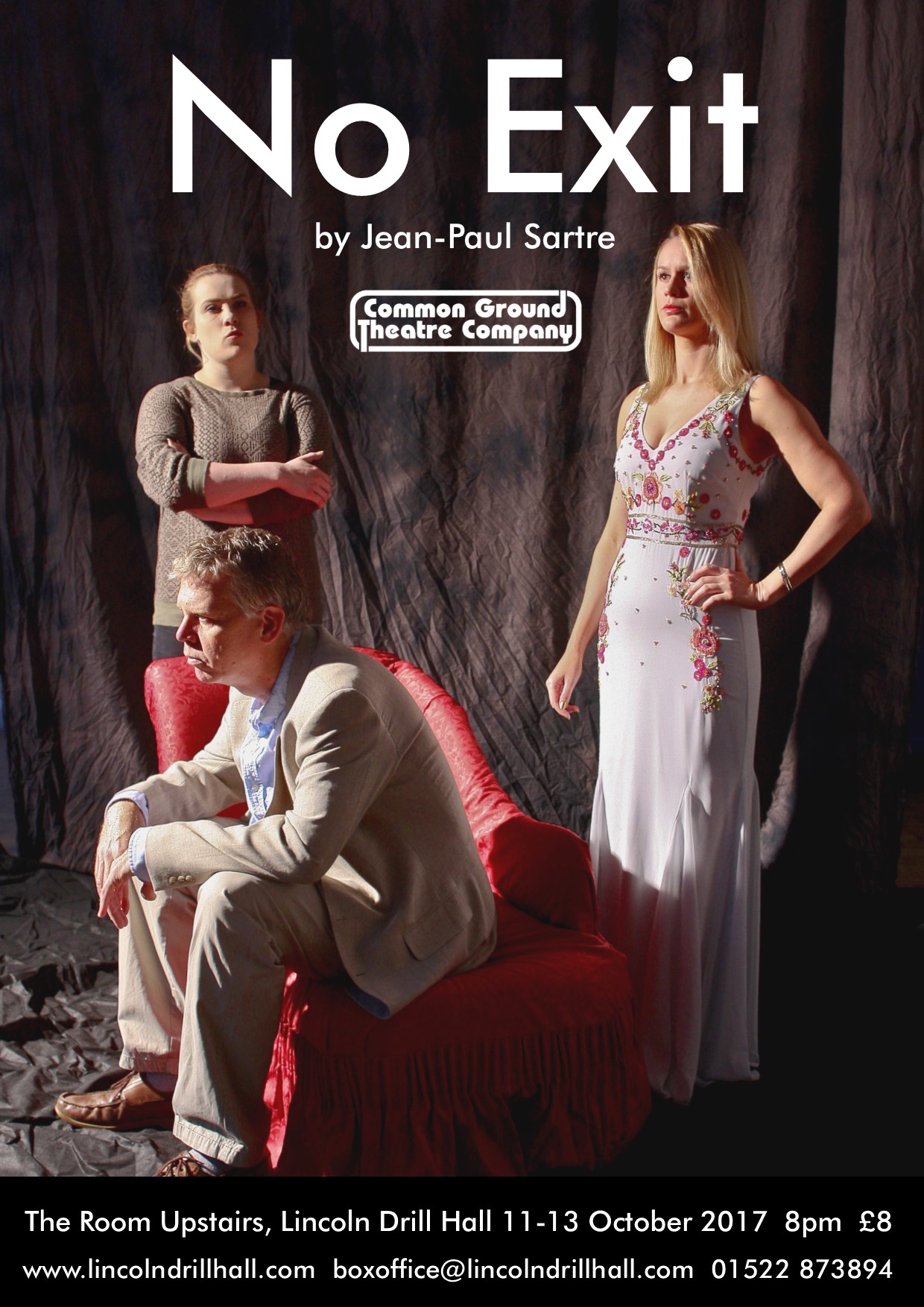 | | |
| --- | --- |
| Garcin | Jez Ashberry |
| Valet | Jay Petherick |
| Ines | Nicole Doyle |
| Estelle | Suzannah Turner |
Director

David Thew

Assistant Director

Su Toogood
Stage Manager
Shelagh Gillingham
ASM
Kevin Gillingham
Lighting
Kevin Gillingham, Joe Price
Sound
Wilfried Nass
Set
Bill Bartlett, Kevin Gillingham,
David Thew, Su Toogood
Photography
Bill Bartlett

 

Properties & wardrobe
Su Toogood
Programme & publicity
Jez Ashberry