Mr Wonderful
by James Robsons
20th to 22nd October 2014 | The Room Upstairs, Lincoln Drill Hall
We turned to contemporary comedy – well, 1980s comedy – with our production of the bittersweet play Mr Wonderful directed in The Room Upstairs by Janet Marshall, who was making her directorial debut for the company.
Stalwart member Gaynor Little did her best to steal the show in a comic role as the bed-ridden Phoebe, who struggles with the idea of her daughter finding true love at last at the same time as she struggles with the early signs of dementia.
But Naomi Watkins also deserves credit for her performance as Norma, who is taken in by the suave impostor Geoff Lazenby before finally turning the tables on him.
The part of Geoff was ably played by another long-standing Common Grounder, Martin Noble, while John Kirsopp demonstrated his versatility by taking the remaining four parts.
For the first time in our history we can't say that we welcomed a new member onto the stage, but we did have newcomers working behind the scenes!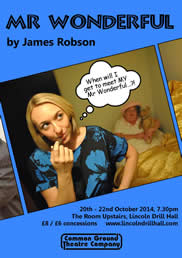 Mr Wonderful
Norma Green
Naomi Watkins
Phoebe Green
Gaynor Little
Geoff Lazenby
Martin Noble
Box, Lop Wink, waiter, drunk
John Kirsopp
Mr Wonderful
Aloysius
Voices off
Vicky Ashberry, Carolyn Jones,
Su Toogood, Fiona McManus
Director

Janet Marshall

Assistant Director

Vicky Ashberry
Technical Support
David Brown
Stage Manager
Nick Dunnett
ASM
Fiona McManus
Wardrobe & make-up
Fiona McManus
Programme & publicity
Jez Ashberry
Front of House
Su Toogood, Carolyn Jones,
Elaine Howell