by Amanda Whittington
26th to 28th May 2022 | Broadbent Theatre, Wickenby
After a hiatus of two and a half years caused by the global pandemic we returned to the Broadbent Theatre for the first time since 2008 to stage the well loved comedy drama drama Ladies' Day.
Covid-19 put paid to our first attempts to stage this play in both 2020 and 2021, so it was a great relief to everyone involved when we finally got the production onto the stage.
Su Toogood did an able job directing an excellent cast, who interpreted the story of four fish factory workers from Hull who go for a day at the races looking to make their fortunes. All four female cast members contributed to an excellent and often hilarious ensemble performance, while special mention must be made of David Hitchings, who demonstrated his versatility by taking on all four male roles.
Audience numbers were healthy – we attracted 210 paying customers over three nights – and the production made a healthy profit which was certainly good news for the company coffers!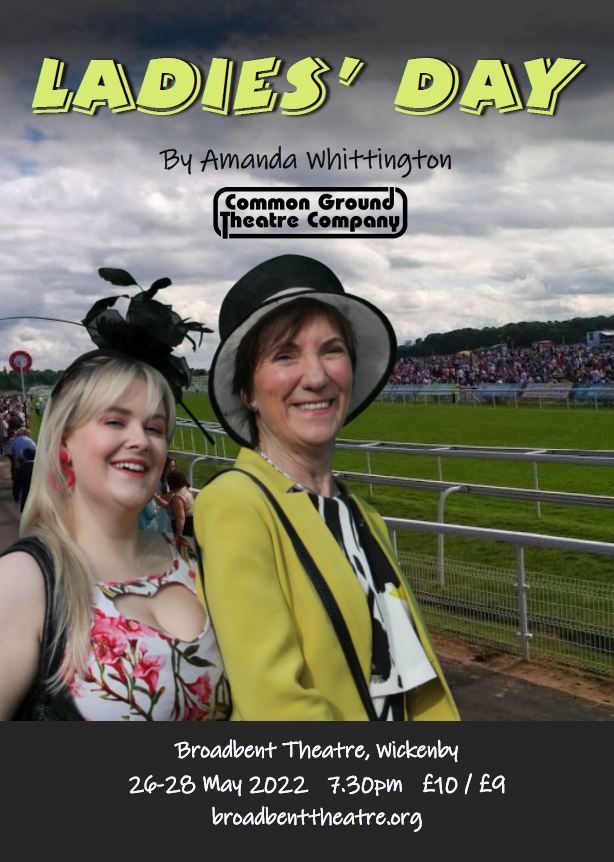 | | |
| --- | --- |
| Pearl | Anita Quigley |
| Shelley | Fraya Grove |
| Jan | Kate Bartlett |
| Linda | Nicole Doyle |
| Joe | David Hitchings |
| Fred | John Leighton |
| Jim | David Hitchings |
| Patrick | David Hitchings |
| Kevin | John Leighton |
| Barry | David Hitchings |
| | |
| --- | --- |
| Director | Su Toogood |
| Stage Manager | Elaine Howell |
| Stage crew | Su Toogood, Carolyn Jones, Nick Dunnett |
| Sound and lighting | Tegh Ahluwalia, Andrew Newton |
| Wardrobe | Su Toogood and cast |
| Properties | Su Toogood and cast |
| Programme / publicity | Jez Ashberry |