by Mary Elliot Nelson and Ian B Smith
Adapted from an original short story by Philip Van Doren Stern
16th and 17th December 2004
Lincoln Drill Hall
18th and 19th December 2004
Nettleham Village Hall
Arguably the most popular Christmas movie of all time, 'It's A Wonderful Life' began life as a short story penned by a hopeful writer and has now been adapted as a play for the theatre. Ian Smith chose this stage version of Frank Capra's movie masterpiece when he made his directorial debut – an ambitious choice but one which was fully justified.
The production broke new ground in a number of ways: it was Common Ground's first appearance at the Drill Hall, Lincoln's new community arts venue; it was the first time we had staged a play at two different venues (we took it to Nettleham Village Hall for two evening performances and a matinee); with 22 actors it was the largest cast we had assembled; and it was our most ambitious production yet in terms of the size of the budget and the technical challenges of the set and the sound and lighting cues.
In the end we pulled it off, though not before what was left of the director's hair turned grey. The show was well received, attracted over 400 spectators during a run of five performances – easily a record for Common Ground Theatre Company – made a small profit and significantly raised the profile of the company.
The Lincolnshire Echo praised the 'strong performances' which 'brought to life the feel-good story' while the Lincoln Chronicle rated the show as 'a production which took time to thaw but warmed into a spirited re-telling of a Christmas classic'.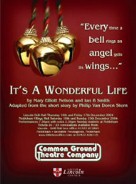 Narrator
Jane Bird
Mary Bailey
Jennifer Martin
Bert / Harry
Martin Noble
Mr Martini
Keith Archer
Mr Gower
David Stubbs
Uncle Billy
John Reeve
George Bailey
Jez Ashberry
Clarice Oddbody
Su Toogood
Violet Bick
Sheryl Tribe
Sam Wainwright
Jason Hippisley
Jethro Potter
Maurice Raphael
Mrs Thompson
Francesca Gugliotta
Mrs Davies
Julie Cartwright
Mrs Randall
Clair Dewison
Mrs Mueller
Rebecca Coulton
Ruth Dakin Bailey
Jenny Davidson
Charlie / Mr Welch
Mrs Kaspowski
Shana
Mrs Martini
Alex Gray
Zuzu Bailey
Sadie Davis
Jeanie Bailey
Sophie Davis
Tom Bailey
Alexander Ashberry
Director
Ian Smith
Stage manager
Graham Botterill
Sound and lighting
Aaron Spowage
Props and costume
Carolyn Jones, Su Toogood
Set construction
Edd Simpson, Ian Smith
Stage crew
Charles Spowage, Margaret Botterill, Steve
Guilliatt, Richard Jones
Front of house
Charles Newby
Publicity
Jez Ashberry
Programme
Jez Ashberry
Poster photography
Andrew Weekes
Incidental piano music
Anne Nugent