Hobson's Choice
by Harold Brighouse
23rd to 25th February 2012 | Lincoln Drill Hall
Our production of Hobson's Choice at Lincoln Drill Hall was a record-breaker for two reasons: it was our most profitable show since we set up Common Ground in 2001 and we sold more tickets – 542 – than for any of our previous 21 plays!
Su Toogood volunteered to direct one of her favourite plays and all her hard work and dedication paid off, as the production was described by many in the audience as one of the best we have ever staged.
Su and her wardrobe manager Carolyn Jones surpassed themselves again by producing a set of costumes which would have graced a professional show, while stage manager Nick Dunnett worked miracles to design and build a set which provided three different locations and a functioning trapdoor on a budget that was counted in pennies rather than pounds!
As has become customary for Common Ground we welcomed several new members onto the stage: Jose Bruce was excellent as Alice, one of Henry Hobson's three daughters, Simon Harvey gave a nice cameo as the lawyer Albert Prosser, and Zeph Brown and John Kirsopp entertained in the roles of Fred Beenstock and Timothy Wadlow respectively.
Other parts were played admirably by some of our more seasoned actors, including founder member Vicky Ashberry who excelled in the mammoth role of Maggie, the oldest daughter who upsets the status quo by marrying Hobson's best bootmaker Will – expertly played by Jason Hippisley. John Leighton brought the right amount of lugubrious humour to the central role of Hobson.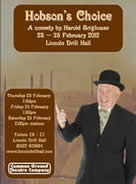 | | |
| --- | --- |
| Henry Horatio Hobson | John Leighton |
| Maggie Hobson | Vicky Ashberry |
| Alice Hobson | Jose Bruce |
| Vickey Hobson | Holly Eggboro |
| Albert Prosser | Simon Harvey |
| Mrs Hepworth | Ruth Andrews |
| Timothy Wadlow | John Kirsopp |
| William Mossop | Jason Hippisley |
| Jim Heeler | John Beverley |
| Ada Figgins | Lisa Hewitt Smith |
| Fred Beenstock | Zeph Brown |
| Dr Macfarlane | Christopher Adams |
| | |
| | |
Director

Su Toogood

Producer

Carolyn Jones

Stage Manager

Nick Dunnett

Lighting

Ed Purle & Chloe Canton

Set design & construction

Nick Dunnett, Kevin Brown, Adam Holman,




Gemma Crane & Andrew Simms

Stage crew

Nick Dunnett, Kevin Brown, Dave Asher, Lisa Hewitt Smith, Adam Holman, Karen Gerlant, Sasha Drennan, Faye Jones, Andy Nisevic, Rachel Taylor & Emma Taylor

Wardrobe

Carolyn Jones, Gemma Crane, Marie Leighton & Su Toogood

Properties

Carolyn Jones, Gemma Crane & Faye Jones

Programme

Jez Ashberry

Publicity

Jez Ashberry

Photography

Rob Brookes, Photos4All

Front of House

Juli Charlton, Laura Davies, Elaine Howell, Dave Milling,




Ros Roe & Sheila Thomas