Great Expectations
by Charles Dickens
Adapted for the stage by Nick Ormerod and Declan Donnellan
25th to 27th November 2010 | Lincoln Drill Hall
Our 20th production was an ambitious one: an adaptation commissioned by the RSC of Charles Dickens' Great Expectations.
It required a cast of 27, countless changes of Victorian costume, complex sound and light effects, original music and a set which had to transport our audience to the Essex marshes, a prison, a forge, a country mansion, a London lawyer's office, the river Thames by night and much else besides.
Director Dave Lintin, ably assisted by producer Su Toogood and a hard-working cast and crew, achieved a production which ranks among the best Common Ground has staged.
The play also gave us an opportunity to welcome a number of new members who made a name for themselves on stage, including Dom McAndrew as Bentley Drummle, Adrian Snow as Herbert, John Beverley as Magwitch and Janet Marshall as Miss Havisham.
And we mustn't forget youngsters Alfie Lewis and Emma Street who acquitted themselves admirably as young Pip and young Estella.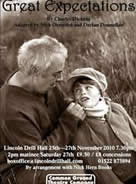 | | |
| --- | --- |
| Young Pip | Alfie Lewis |
| Magwitch | John Beverley |
| Mrs Joe | Vicky Ashberry |
| Joe Gargey | Tony Smith |
| Compeyson | John Leighton |
| Mr Pumblechook | Ian Smith |
| Mr Hubble | Dave Hewitt |
| Mrs Hubble | Eileen Finningley |
| Wopsle | Graham King |
| Sergeant | Dom McAndrew |
| Young Estella | Emma Street |
| Miss Havisham | Janet Marshall |
| Young Herbet | Jacob Grantham |
| Pip | Steve Gillard |
| Orlick | Dave Hewitt |
| Biddy | Lisa Hewitt Smith |
| Mr Jaggers | Tim Bradford |
| Petitioners | Dave Hewitt, Honor & Jacob Grantham |
| Wemmick | John Leighton |
| Herbert | Adrian Snow |
| Bentley Drummle | Dom McAndrew |
| Startop | Dave Asher |
| Molly | Alison Clubley |
| Estella | Alex Thornton |
| Watchman | Dave Hewitt |
| Young Magwitch | Jacob Grantham |
| Counsel | Graham King |
| Beadle  | Ian Smith |
| Officer | Dom McAndrew |
| Bailiff | Ian Smith |
| Company | Helen Fleshbourne, Karen Ryan, Sheila Thomas, Holly Eggbro, Katie Gray, Su Toogood |
| | |
| --- | --- |
| Director & Stage Manager | David Lintin |
| Co-Director & Producer | Su Toogood |
| Assistant Stage Manager | Nick Dunnett |
| Lighting | Ed Purle |
| Sound and original music | Mark Scales |
| Set | Dave Lintin, Pete Swift & family |
| Wardrobe | Carolyn Jones, Su Toogood, Anne Culling |
| Props | Carolyn Jones, Su Toogood, Anne Culling, Ian Smith |
| Programme | Jez Ashberry |
| Publicity | Jez Ashberry |
| Front of House | Jez Ashberry |
| | |
| | |
| | |
| | |