by Patrick Hamilton
2nd to 4th March 2023 | The Broadbent Theatre, Wickenby
The term 'gaslighting' has never been more current. It describes a manipulative tactic in which a person plants seeds of uncertainty in someone's mind in order to gain power and control over them.
The origin of the word used in this sense can be found in the play Gaslight, written in 1938 but set in Victorian London. The villain Jack Manningham is brought to justice in part because his wife Bella sees the gaslights in her home going up and down, a curiosity which leads her to suspect her husband is up to no good.
Our first attempt at staging this tense thriller in the autumn of 2022 was defeated by several bouts of Covid-19 among the cast, so we postponed the production until the following spring. With a new Jack Manningham in the male lead role and a short rehearsal schedule, we had to pull out all the stops to make sure the play was ready for an audience at the beginning of March.
As it turned out we needn't have worried, as the experienced cast rose to the occasion, as did our set builder and stage manager Nick Dunnett, whose Common Ground swansong this was. His ingenious set drew a good deal of admiration, featuring as it did a realistic fire in the grate and two authentic-looking gas lamps which glowed and faded as the plot required. 
Jason Hippisley brought a deliciously sinister playfulness to the role of the villain Jack, contrasting his wicked levity with occasional flashes of frightening menace. Laura Turner, making her Common Ground debut, skilfully portrayed a young woman who fears she is losing her mind but who triumphs in the end over her own doubts and her husband's evil plan. Jez Ashberry brought experience and gravitas to the role of the retired detective Sergeant Rough, and Vicky Ashberry and Flo Harrison introduced some comic relief with pitch-perfect performances as the domestic help.
Credit must go to our director Julia Ross who overcame numerous obstacles before staging one of our most memorable productions.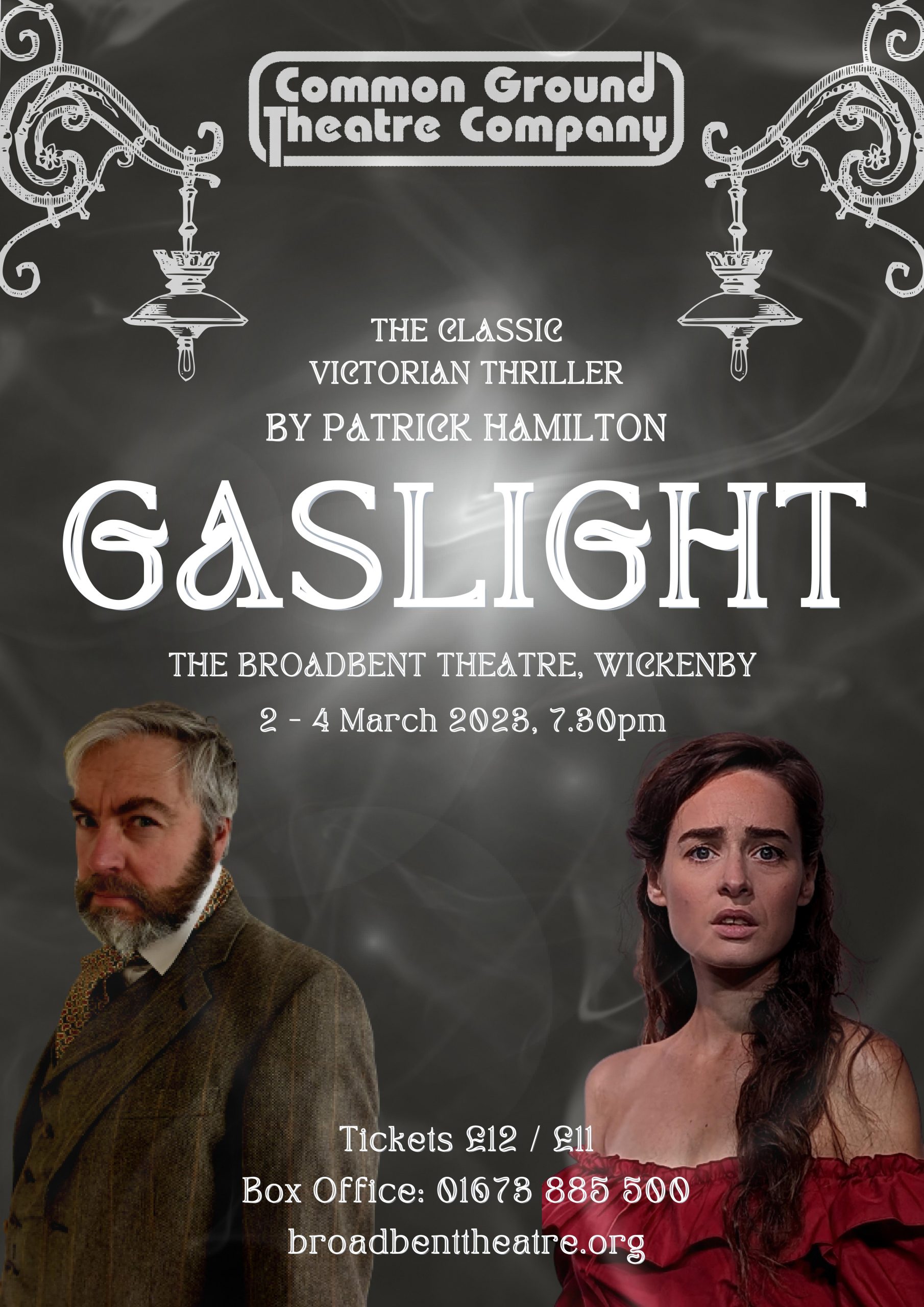 | | |
| --- | --- |
| Jack Manningham | Jason Hippisley |
| Bella Manningham | Laura Turner |
| Nancy, the maid | Florence Harrison |
| Elizabeth, the housekeeper | Vicky Ashberry |
| Muffin seller, Constable | Andy Nisevic |
| Sergeant Rough | Jez Ashberry |
| | |
| | |
| | |
| | |
| | |
| | |
| | |
| | |
| | |
| --- | --- |
| Director | Julia Ross |
| Producer | Su Toogood |
| Stage Manager | Nick Dunnett |
| Stage crew | Andy Nisevic |
| Set | Nick Dunnett |
| Sound & lighting | Andrew Newton, Nick Dunnett |
| Wardrobe & props | Su Toogood, Carolyn Jones |
| Programme / publicity | Jez Ashberry |
| Poster / photography | Laura Turner |
| | |
| | |
| | |
| | |
| | |
| | |