A spectacular evening of Music Hall gaiety
14th, 15th, 21st & 22nd May 2004
Millennium Festival Studio Theatre, Central Methodist Church, Lincoln
Although there had been some light-hearted moments it began to dawn on us at the end of 2003 that much of what we had staged since our inception tended towards the more serious side of drama. Death and destruction had been experienced more than once, and a fictional suicide played a part in at least two of our productions.
We therefore made a conscious decision to stage something lighter for our spring 2004 production – and in the process to take a completely different tack, just to show off our versatility. We decided to plug a gap in the market by staging a Victorian music hall show featuring a live orchestra, singers, dancers, period costumes and an eloquent master of ceremonies. Moreover, we wanted to create a total Victorian experience into which the audience could really immerse itself. To that end we provided front of house staff in costumes (including two young girls selling flowers) and Victorian style ices and soft drinks in the interval, we sang the National Anthem at the end of each show and even drank a toast each evening to Her Majesty Queen Victoria.
It was almost certainly our most ambitious production to date; when we embarked on the project we had no band, no musical director and only a handful of singers and dancers. But by casting the net far and wide and unearthing some unexpected gems from within our own society we staged a show which was extremely well received by audiences and critics and a great financial success. Our total audience for six performances was 321 – easily a record for Common Ground Theatre Company.
Some performances will live long in the memory, not least Ian Smith's incompetent Turkish strongman and Jane Walker's impeccable soprano voice, but everyone involved really rose to the occasion.
The Lincoln Chronicle called it 'an evening which no astute afficionado of such effusively ebullient and energetically effervescent entertainment could possibly fail to enjoy', while the Market Rasen Mail hailed 'a remarkable recreation of a golden age', 'a brave venture… which pays off with some style.'
Here's the playbill which we presented: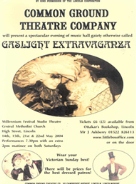 Act One
Overture
Chairman
Don't Dilly Dally
If it Wasn't for the 'Ouses in Between
Vilia
Comic Interlude
And Her Golden Hair was Hanging Down her Back
Sand Dance
Love's Old Sweet Song
The Strongman of the Bosphorus Baths
Hold Your Hand Out, Naughty Boy
Any Old Iron?
Act Two
Overture
Toast – Queen Victoria
The Perils of Petunia
Why Am I Always a Bridesmaid?
Burlington Bertie of Bow
Comic Interlude
Rusalka's Song to the Moon
Have Some Madeira, M'Dear
Home Sweet Home
Old Bull and Bush
Daisy Bell
God Save The Queen
Close
MC – Tim Raynes
Musicians
Anne Nugent (piano) Carol Chambers (cello)
Meg Davidson (flute) Joe Applewhite, Dan Swinburn
(percussion)
Solo singers
Sheryl Tribe, Su Toogood, Derek West, Vicky Ashberry,
Jane Walker, Jez Ashberry, Eddy Simpson
Dancers
Clair Dewison, Jenny Davidson, Steve Marshall
Tracey Hunt, Vicky Ashberry
Chorus
Carolyn Jones, Eileen Finningley
Comedians
Ian Smith, Jeff Bridge, John Reeve, Derek West
Melodrama
Petunia – Jenny Davidson
Horatio – Jez Ashberry
Fortescue – Derek West
Squire William – Ian Smith
Captions – Clair Dewison
| | |
| --- | --- |
| Stage Manager | Francesca Gugliotta |
| Stagehands | Keith Archer, Beryl Gregory |
| Costumes | Vicky & Jez Ashberry |
| Set | Ian Smith, Eddy Simpson |
| Front of House | Carolyn Jones |
| Programme / Publicity | Jez Ashberry |