by Laura Wade
13th to 15th March 2019 | The Blue Room, The Lawn, Lincoln
 Terminal cancer is not often the subject of a comedy, but there were plenty of laughs as well as tears in Laura Wade's bittersweet drama which we performed at The Blue Room in March 2019.
Long-serving Common Ground stalwart Juli Charlton played the role of Myra, the middle-aged mum facing up to the fact that her husband and daughters will outlive her. Her family, already dysfunctional, is taking the news badly, and the play is an unflinching yet compassionate look at how families cope under such circumstances.
Juli delivered her usual measured and faultless performance; Fraya Grove and Holly Turner were excellent and completely believable as the warring sisters who find themselves drawn close together by their mother's illness, while Jez Ashberry was suitably dour as the husband who has trouble engaging with his emotions.
Julia Ross did an excellent job directing the play, which was rated as one of our best even though audiences at The Blue Room – Lincoln's newest theatre venue – were disappointingly small.
Reviews: 
"I have just seen the first-night performance of a play called Colder Than Here at The Lawn, Lincoln. It is the darkly comic story of a family under pressure from failing relationships, a broken boiler and the knowledge of an imminent death.
"This has to be one of Common Ground's strongest productions – beautifully acted, well observed, unsentimental – performed by four actors in a tight space. I strongly recommend you take time to go see this. Well done everyone." – Colin Brimblecombe via Facebook.
"We watched Colder Than Here tonight at The Blue Room , it was amazing, I've never heard the audience laugh so much, yet it was emotional as well as funny. It was as if the parts the cast played were made for them. Well done everyone, we thoroughly enjoyed it." – Jill Cook via Facebook.
"What a fantastic play. Well done everyone! Really enjoyed it." – Dome Freestone via Facebook.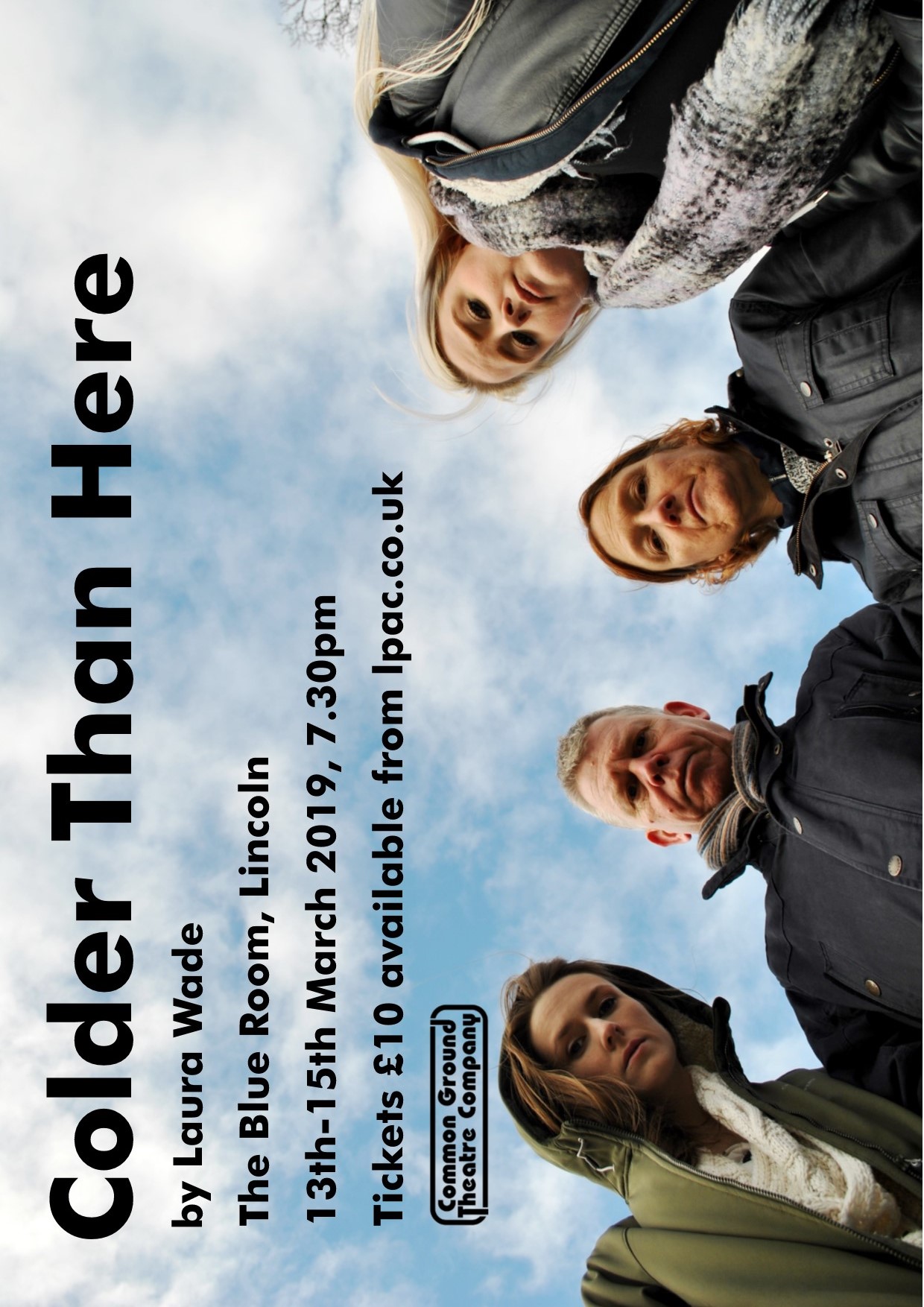 | | |
| --- | --- |
| Myra | Julia Charlton |
| Jenna | Fraya Grove |
| Harriet | Holly Turner |
| Alec | Jez Ashberry |
| | |
| --- | --- |
| Director | Julia Ross |
| Stage crew | Shelagh Gillingham & Julia Ross |
| Lighting & technical | Kevin Gillingham |
| Sound | Stephen Gillard |
| Properties | Julia Ross & Nick Dunnett |
| Publicity photos | Vicky Ashberry |
| Programme & publicity | Jez Ashberry |
| Front of house | Vicky Ashberry, Rose Rowe, Elaine Howell, Su Toogood & Carolyn Jones |