Closer
by Patrick Marber

5th to 7th July 2012 | The Room Upstairs, Lincoln Drill Hall
Closer took Common Ground Theatre Company in a new direction in two different ways: it was our first appearance in The Room Upstairs, Lincoln Drill Hall's new intimate performance space (50-seat capacity), and it was an opportunity to stage a more contemporary and edgy play than our audiences are used to seeing.
Closer sold out every night and won praise from those who saw it. It was certainly a difficult play to direct and to act in; there are just four actors, a very confined space, no set and very few props to speak of, not to mention some strong language and at times very intense, emotional scenes.
Director Alex Thornton handled the production with aplomb and put together an extremely strong ensemble of actors – two of whom were new to Common Ground – who really did justice to the play. There was also a nicely judged 1990s soundtrack and clever use of projection to set the scenes and to recreate the infamous online chat conversation between to the two male characters!
We hope this will be the first of many visits to The Room Upstairs, a venue which will give us the opportunity to try more experimental and contemporary works.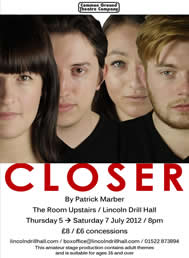 | | |
| --- | --- |
| Anna | Natalie Reed |
| Alice | Kimmie Hunter |
| Dan | Adrian Snow |
| Larry | Stephen Gillard |
| | |
| --- | --- |
| Director | Alex Thornton |
| Producer | Lisa Hewitt Smith |
| Stage Manager | Lisa Hewitt Smith |
| Lighting | Laura Kavanagh |
| Set design | Alex Thornton |
| Wardrobe | Laura Kavanagh, Lisa Hewitt Smith, Alex Thornton |
| Properties | Laura Kavanagh, Lisa Hewitt Smith, Alex Thornton |
| Photography | Andy Benn |
| Programme | Jez Ashberry |
| Publicity | Jez Ashberry |
| Stage crew | Alan Trevor, Ali Roswell, Vicky Ashberry, Lisa Hewitt Smith |
| Front of house | Becky Fawcett, Elaine Howell, Jez Ashberry |