by Laurie Lee | Adapted by James Roose-Evans
23rd-25th July 2009 Drill Hall, Lincoln
For our summer 2009 production we opted for another ambitious and innovative staging with a cast of thousands – James Roose-Evans' adaptation of the first part of Laurie Lee's autobiographical trilogy, Cider With Rosie.
Once again Common Ground Theatre Company proved itself to be a group which can absorb new members and take on complex and at times daunting productions: of the 21 actors in the cast 11 were newcomers to the company, and between them they tackled some of the trickiest bits of stage business Common Ground has attempted to date!
Tim Bradford held the show together with a star turn as Laurie Lee narrating the action, and he was ably supported by Teana Hutchinson (Mother Lee) and the rest of the family.
One of the biggest challenges faced by the cast – apart from recreating rural Gloucestershire between the wars with only a few props, costumes and 18 wooden chairs – was the fact that all the children were played by adult actors, including some as young as three or four.
The Market Rasen Mail described the production as 'a worthy introduction to Laurie Lee's trilogy, which will have made many in the audience want to read or re-read the book'.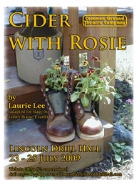 | | |
| --- | --- |
| Narrator, Laurie Lee | Tim Bradford |
| Mother | Teana Hutchinson |
| Loll, the young Laurie Lee | Jez Ashberry |
| Phyll, Loll's half-sister | Lisa Smith |
| Marge, Loll's half-sister | Alex Thornton |
| Doth, Loll's half-sister | Becky Fawcett |
| Jack, Loll's older brother | Tony Smith |
| Tony, Loll's younger brother | John Leighton |
| First teacher | Emma Atkin |
| Miss Crabby B, Mrs Davies | Kate Townsend |
| Spadge Hopkins | Dave Hewitt |
| Miss Wardley, First Spinster, Mrs Pimbury | Chrissie |
| Hughes Walt Kerry | Chris Matthews |
| Granny Wallon | Carolyn Jones |
| Granny Trill | Su Toogood |
| Vicar, Mr Davies | Christopher Adams |
| Vincent | Jason Hippisley |
| Uncle Sid, Squire | Ian Smith |
| Second Spinster, Baroness von Hodenburg | Eileen Finningley |
| Jo | Melissa Monks |
| Rosie | Dani Isaacs |
| | |
| --- | --- |
| Director | David Lintin |
| Producer and Assistant Director | Su Toogood |
| Original music composed by | Mark Scales |
| Stage Manager | Helen Fleshbourne |
| Crew | Helen Fleshbourne, Bill Bartlett |
| Properties | Bill Bartlett |
| Wardrobe | Carolyn Jones, Su Toogood |
| Sound effects | Mark Scales |
| Technicians | Ed Purle, David Lintin |
| Set | David Lintin, Bill Bartlett |
| Poster design | Chris Van Zwoll, Mark Scales |
| Programme & publicity | Jez Ashberry |
| | |
| | |
| | |