Carry On, Jeeves
Adapted from the stories by PG Wodehouse
214th to 16th March 2013 | Lincoln Drill Hall
We staged a world premiere in March 2013 – a new adaptation of three PG Wodehouse stories about Bertie Wooster and his valet Jeeves.
Our chairman Jez Ashberry spent two years getting permission from the Wodehouse Estate to write a new play about these memorable characters and a further year getting the production onto the stage.
The play provided a mammoth part for Jason Hippisley, a man who was born to play Bertie Wooster, and he rose to the challenge magnificently, driving the play forward and remaining on stage throughout most of its two and a half hours. His goofy, gangly Bertie Wooster was beautifully complemented by Graham Turner, a newcomer to our group, whose performance as Reginald Jeeves was by turns affable and cunning.
As usual Su Toogood and Carolyn Jones did a sterling job ensuring our 1920s props and costumes looked the part, and a live swing jazz band playing incidental music put the finishing touch to the period atmosphere. We even had Jeeves and Bertie music playing in the cafe bar and free cucumber sandwiches on offer!
Two members of the PG Wodehouse Society came to see the show and we're pleased to say that their reviews were very positive. "This will definitely be revived and ring down the ages," wrote Christine Hewitt, while Steve Griffiths called the show "an outstanding theatrical presentation" and added: "This play has opened the world of PG Wodehouse to a new generation of theatre-goers and it deserves our fullest thanks and praise."
Negotiations are now ongoing between Jez and the Wodehouse Estate regarding future performances of the play. Watch this space!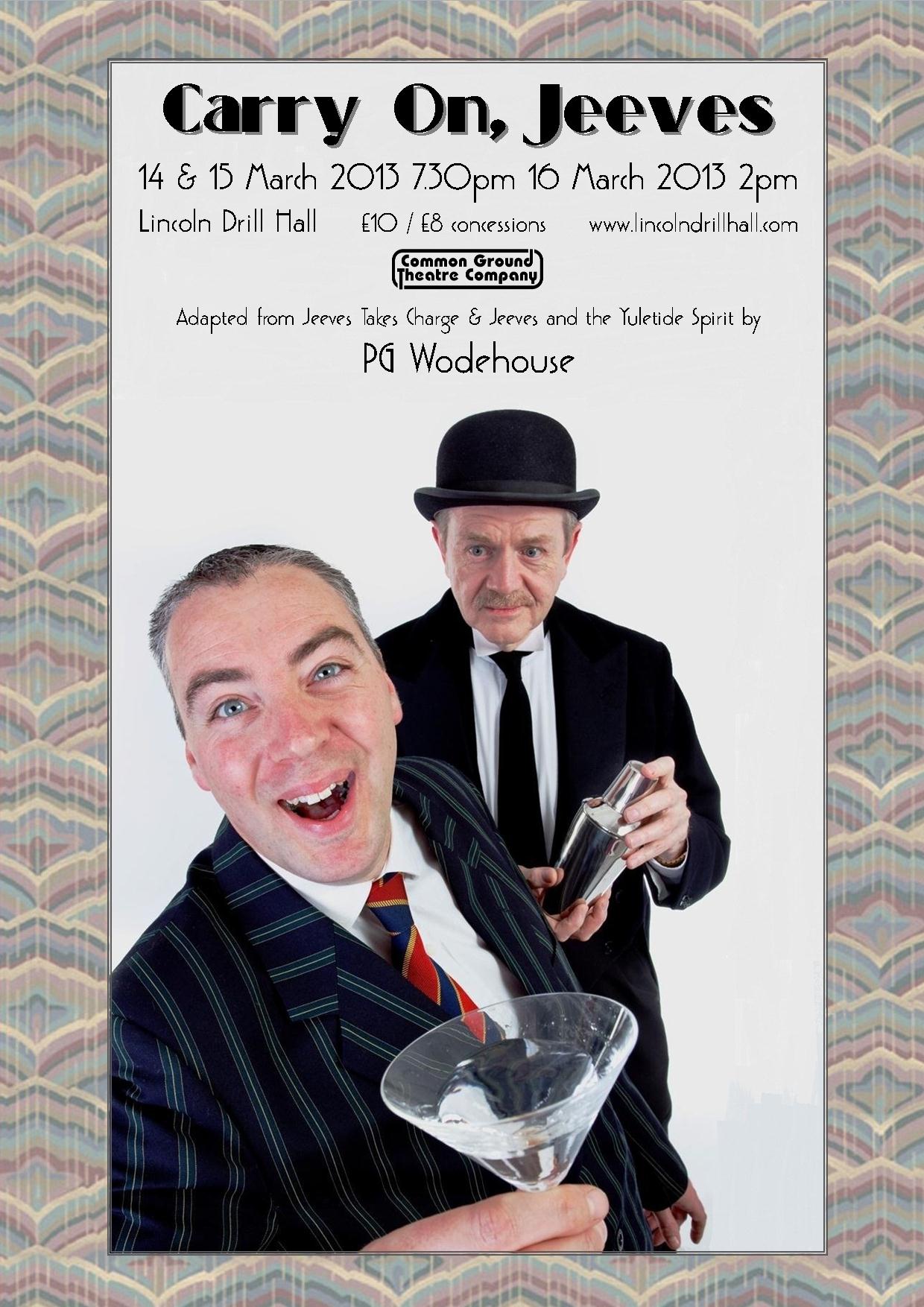 | | |
| --- | --- |
| Bertram Wooster | Jason Hippisley |
| Reginald Jeeves | Graham Turner |
| Aunt Agatha | Irene North |
| Eustace Wooster | James Spencer |
| Claude Wooster | Daniel Hutchinson |
| Lord Rainsby | Peter Wight |
| Sir Roderick Glossop | Michael Church |
| Lady Florence Craye | Rowena Devonport |
| Sir Willoughby Wooster | John Leighton |
| Hildebrand 'Tuppy' Glossop | Martin Noble |
| Honoria Glossop | Kate Bartlett |
| Edwin | Alfie Lewis |
| Roberta 'Bobbie' Wickham | Aggi Gunstone |
| Lady Wickham | Mary Scott |
| Oakshott | John Kirsopp |
| | |
| --- | --- |
| Director | Jez Ashberry |
| Stage Manager | Vicky Ashberry |
| Lighting | Lesley Hedley & Ed Purle |
| | |
| Stage crew | Nick Dunnett, Will Pembery & Andy Nisevic |
| Wardrobe | Su Toogood & Carolyn Jones |
| Properties | Su Toogood & Carolyn Jones |
| Musical Director | Rich Sandham |
| Vocals | Bilie Baker |
| The Bootleg Babies | Jane Hancock (clarinet), Martha Gibbons (guitar), Harry Poxon (bass) & Peter Glanfield (percussion) |
| Hairdressing | Fran Pembery |
| Programme & publicity | Jez Ashberry |
| Publicity photography | Rob Brookes, Photos4All |
| Production photography | Bill Bartlett |
| Front of House | Holly Eggboro, Faye Jones, Ros Roe, Sheila Thomas, Andy Mitchell & Elaine Howell |